26 Jan

CAN, MUSLIM CLERICS JOIN HANDS FOR SENATOR ADEOLA'S RE-ELECTION

Members of the Christian Association of Nigeria, CAN and League of Imams of Lagos West Senatorial District stormed the senatorial office of Senator Solomon Adeola (APC, Lagos West) to throw their weight behind his aspiration for re-election based on his effective representation and empowerment of constituents.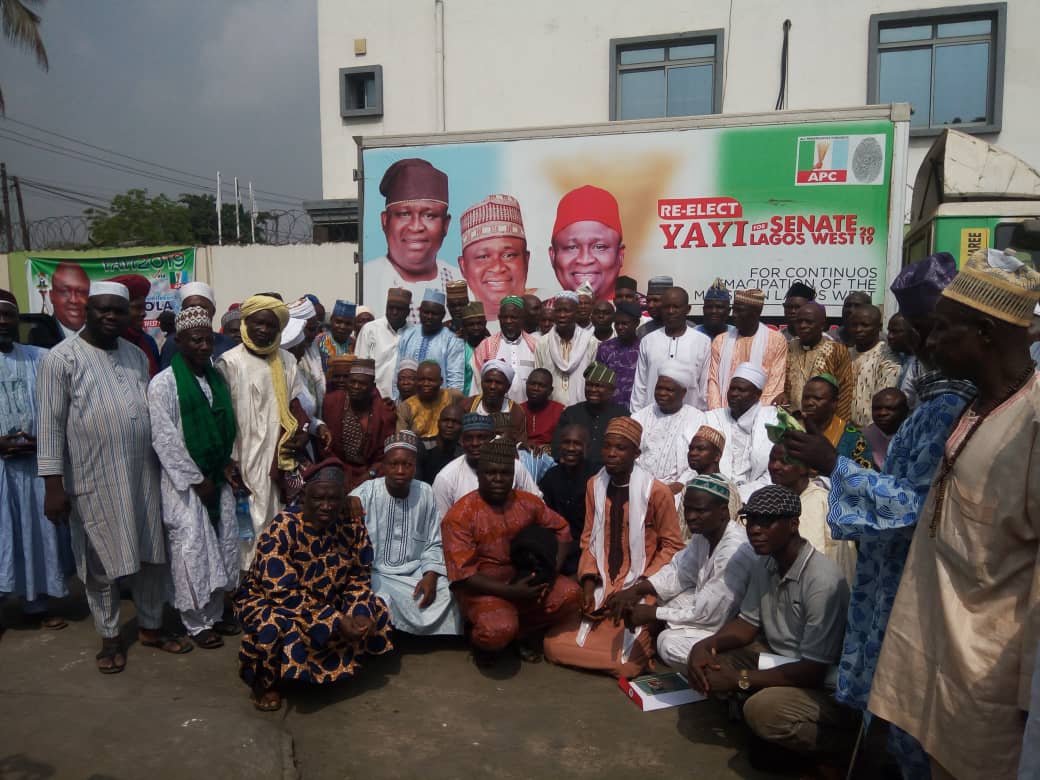 Reverend Dele Ashaju, chairman of Alimosho CAN, speaking on behalf of 28 other chairmen of CAN of the district stated that it was indeed Senator Adeola's tenure that first opened their eyes to the benefits derivable from praying for and supporting their representatives stressing that his empowerment programmes for constituents and goodwill gestures during festive periods are of good report for him relative to other politicians.
"I must confess that it was our Senator who first opened our eyes to the fact that elected office holders are meant to report back to their constituents with dividends of democracy instead of pretending" the CAN Chairman said.
While thanking the Senator for the donation of a Toyota bus, Rev. Ashaju stated that it was the Senator that was instrumental to the cordial and close relations between Christian and Muslim groups in Lagos West adding that he should continue to effectively represent the district.
Also speaking on behalf of the League of Imams in Lagos West, Alhaji Abdulrahman Abdulaziz, the Chairman of the League of Imams in Ikeja commended the Senator for the donation of a Toyota bus for the group in his first year in office stressing that the bus is a testimony for his identification with the Muslim clergy in the state.
"We are happy with your representation. If the people are happy with you then God is happy with you and we will continue to pray and support you for identifying with us in our areas of need" he stated.
Senator Adeola who was elated at the outpouring of love and support said he will always do his best in spite of the vastness of the senatorial district as the largest in the country adding that he always publicize empowerments and other activities so that people will not have the impression that he is not doing anything in the vast district.
He urged them to know that in spite of the challenges facing the nation only APC meant well for them and their future generations with its programmes stressing that voting for PDP is to return the nation to the path where some Nigerians will just loot the resources of the nation in such a magnitude with deleterious effects on future generations of Nigeria.